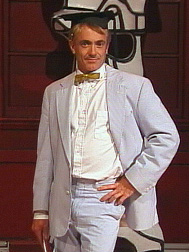 Dr. Scheie's Traffic School
Josie's Cabaret
June 11-21, 1998
Starring Danny Scheie
Written and performed by Danny Scheie
Directed by Mark Rucker
Produced by 'Make It So' Productions
"Dr. Scheie's Traffic School" is a wildly insane trip through a series of Danny's idiosyncratic meanderings on theatre, stardom, sex, and art. Always a master of language (years of directing and acting in Shakespeare), this series of seemingly disconnected vignettes displays Danny's considerable acting versatility. In hilarious fashion, he vents on his dislike of Mother Theresa and Audrey Hepburn, skewers pretentious straight actors and actresses on their lack of style, and argues rather forcefully on Shakespeare's obvious gayness. The show is an over-the-top digression through one of San Francisco's major comic minds.
Danny Scheie (writer/actor)
Danny has directed Doug Holsclaw's "The Last Hairdresser" (Bay Area Critics winner for Best Actor, nominated for Best Director), "Desk Set" (Cable Car Award nomination), "The Stand-In", "Twelfth Night", "Up Jumped Springtime"; Shakespeare Santa Cruz productions of: "The Tempest", "Midsummer's Night Dream", "Merchant of Venice", "Taming of the Shrew", and "Comedy of Errors". He has also directed James Patrick Kennedy's "Harvey Milk", Holsclaw's "Pete in Paradise" at Josie's, and "Picnic" at the Marin Theatre Company.
Reviews
"The English language hasn't yet devised a word that could sum up Danny Scheie's new one-man show. Scheie is on a mission to skewer straight pretentions, hang-ups, and inadequacies, with just enough over-the-top outrageousness to keep it in the company of comedy. Danny has built up a considerable reputation as an accomplished director and versatile performer."
–Bay Area Reporter
"The show is a lot of fun. Dr. Scheie's Traffic School is a strange jolting experience with a sinister singing, scolding homosexual instructor. Dr. Scheie is fun because it has no sublimation about taboo topics, his last segment, 'Truck Stop Girl' is brilliant creation".
–SF Weekly